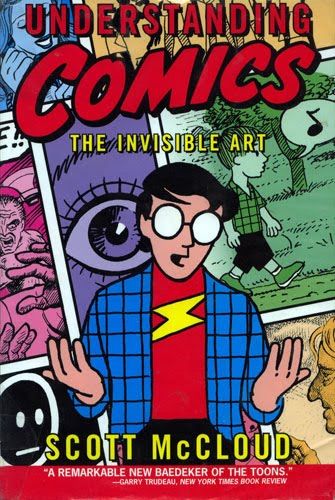 Understanding Comics: The Invisible Art
by
Scott McCloud
I am kicking myself for not reading this in school when it was "recommended reading" for an animation class.
When one struggles through art college with fine art teachers calling your narrative and iconic inclinations "trivial," one could have used an intelligently-written essay like this to validate one's dreams of becoming a comic book artist. I want to give this book to my cousin to give to his English teacher who gets mad at him for reading graphic novels I gave him for recreation.
But beyond the validation we seem to need as we duck our heads in shame and admit we love to read, collect, and/or make comics to others, it opens up the world of possibilities for comics that even the most seasoned fan might not think about. Because even we who love this art form make assumptions about it. I do. How else can you explain how in my early days I wanted to be a comic book artist but had no interest in superheroes and so I thought it was not the path for me?
The essay delves into semiotics, art history, and even the fundamentals of communication to show how comics fills a void that no other art form can. And comics does it in unique ways that I never really thought about. (It might help to know a little about art history and comic history as certain names are dropped--but not necessary.) In the end I love a book that articulates something I have never been able to say--that the special capabilities of comics are magical for storytelling, and why.
And I find it hilarious that it's an essay on comics
in comic form.
Perfection.
So don't put off reading this book. Whether you love comics and want to expand your understanding, are any kind of storyteller, or have just a passing curiosity, this is a must read. I regret taking so long!